Public Utility Foundation Yamamoto Noh Theater
We aim to spread the importance of SDGs all over the world through the art of Noh - an Intangible Cultural Heritage under the protection of UNESCO
■ About Yamamoto Noh Theater Yamamoto Noh Theater is a three story Noh theater - a traditional wooden building rarely seen in Japan nowadays. It was founded by the 10th generation head of Yamamoto family, Hiroyuki Yamamoto in 1927. It is located in the former samurai residence area in the vicinity of Osaka Castle, right next to the Kumano Road - a main thoroughfare with a constant stream of people. In the days when Osaka was once called "Oo-osaka," and it was full of vigor and showcasing unprecedented liveliness, Yamamoto Noh Theatre was built with the intent to become the centerpiece of the social and cultural life of the gentry in the Senba area. Since the time of Toyotomi Hideyoshi, the art of Noh in Osaka had undergone a transition from a mere "entertainment" to an art for practicing and learning. Since its creation, thousands of people have experienced and have become part of the history of Noh at Yamamoto Noh Theater.


Yamamoto Noh Theater

The Noh stage

Acoustic pots under the stage


Since it was established, Yamamoto Noh Theater has hosted and organized various events, mostly in the field of the Japanese traditional and classical performing arts. The theatre combines traditional architecture with modern technology, such as LED lighting and multilingual subtitles, thus entertaining and educating not only a broad Japanese, but also international audience. One of our main goals is to present the Japanese classical Noh drama as a still living and relevant ancient performing art. Since 2010, Yamamoto Noh Theater has been introducing Noh outside Japan annually, with more than 30 performances and 40 workshops carried out in countries such as Bulgaria, Romania, Slovakia, France, Finland, North Macedonia, Albania etc. The theatre has been collaborating with local cultural and diplomatic institutions.


Noh play "Shakkyo"

Noh play "Hagoromo"

Noh play "Shojo"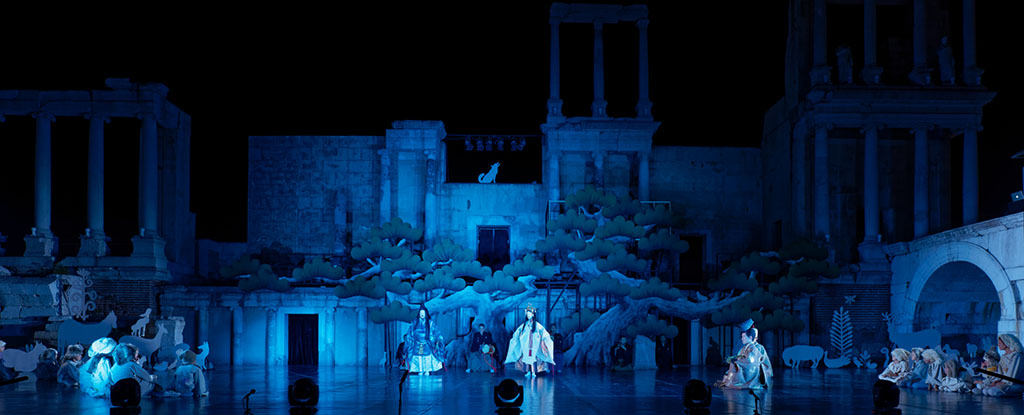 New Noh play "Orpheus", performed in the Antique Roman Theatre, Plovdiv, Bulgaria 2019


■ Performances and Activities At Yamamoto Noh Theater, visitors can enjoy various kinds of traditional Japanese performing arts, including Noh plays and Kyogen comic plays, both of which have been designated by UNESCO as World's Intangible Cultural Heritage. In some of the performances, subtitles are available in English, Chinese and Korean.

In addition to traditional performances, Yamamoto Noh Theater organizes various programs for visitors: tours of the Noh stage and dressing rooms, lectures on Noh plays, trying on Noh costumes and classes in "utai" - Noh chant. Under the guidance of Noh masters, visitors can walk on the Noh stage with masks on, and try playing musical instruments used in Noh performances.


Noh style walking

Demonstration of Noh masks

Putting on Noh masks


Yamamoto Noh Theater allows the audience to drink and eat in the theater. Upon customers' request and according to their budget and preference, the Theater will serve snacks, soft drinks and alcoholic beverages.

Every month, Yamamoto Noh Theater hosts a special show titled "The Traditional Performing Arts of Osaka", which presents four traditional performing arts in a single evening. This show is particularly popular among tourists from outside Japan, since they can enjoy highlights of four performing arts in just two hours (each performance lasts about 15 minutes). Programs are selected from the repertoire of all traditional performing arts that originated in Osaka, including Noh plays, Kyogen comic plays, Bunraku puppet theater, Ozashiki-asobi (games played at Japanese-style parties), Kamigata-mai (Western Japanese traditional dance), Rakugo (comic storytelling), Kodan (storytelling) and Rokyoku (narrative ballad).

Moreover, Yamamoto Noh Theater can arrange special programs of "taiken", or "hands-on experience", for visitors to take a lesson in traditional performing arts.

We are awaiting your visit!


Tokuicho 1-3-6, Chuo-ku, Osaka, 540-0025, Japan
TEL:+81-6-6943-9454 FAX: +81-6-6942-5744
Email: info@noh-theater.com